Our Mission
Campana Studios is dedicated to harnessing the power of visual arts to raise awareness around key social justice issues, ultimately fostering a fair and just community. We are committed to promoting economic self-sufficiency for artists, creating employment opportunities, and ensuring that artists are an integral part of the cultural diversity that enriches our society. Our mission is to drive systemic change and empower artists to be catalysts for a healthy, fair, and just society.
Our vision
Our vision at Campana Studios is a world where the visual arts serve as a dynamic force for social justice and community building. We see a future in which artists thrive economically, secure in the knowledge that their work contributes significantly to the cultural fabric of society and the transformation of communities. We envision artists as engaged and empowered advocates for change, essential to the creation of a vibrant, diverse, and inclusive society.
Our values:
Social Justice Advocacy
We are deeply committed to raising awareness of and addressing social justice issues. We believe that art can be a powerful tool for challenging and transforming the systems that perpetuate inequality and injustice.
Economic Empowerment
We champion economic self-sufficiency for artists by providing them with meaningful employment opportunities and support to sustain their livelihoods through their creative work.
Community-Centric
We believe that artists play an integral role in creating vibrant communities. Our values are rooted in the belief that artists are vital for cultural diversity and the positive impact they bring to society.
Equity and Inclusion
We are unwavering in our commitment to fostering fair and just communities. We advocate for the equal and inclusive representation of artists in all aspects of society, ensuring their voices are heard and respected.
Cultural Enrichment
We recognize the transformative power of visual arts in enriching culture and society. We celebrate the profound impact artists have on our world and work tirelessly to ensure their place in our communities.
Engagement and Advocacy
We firmly believe that a healthy, fair, and just society requires the active engagement of visual artists. We are dedicated to providing artists with the means to live, create, engage, and share their art, allowing them to be change agents in our society.
How did Campana Studios come to be
Campana Studios was founded in 2020 as an outgrowth of a community-wide art program that supported families facing food insecurity during the COVID-19 pandemic "Be Strong/Se Fuerte."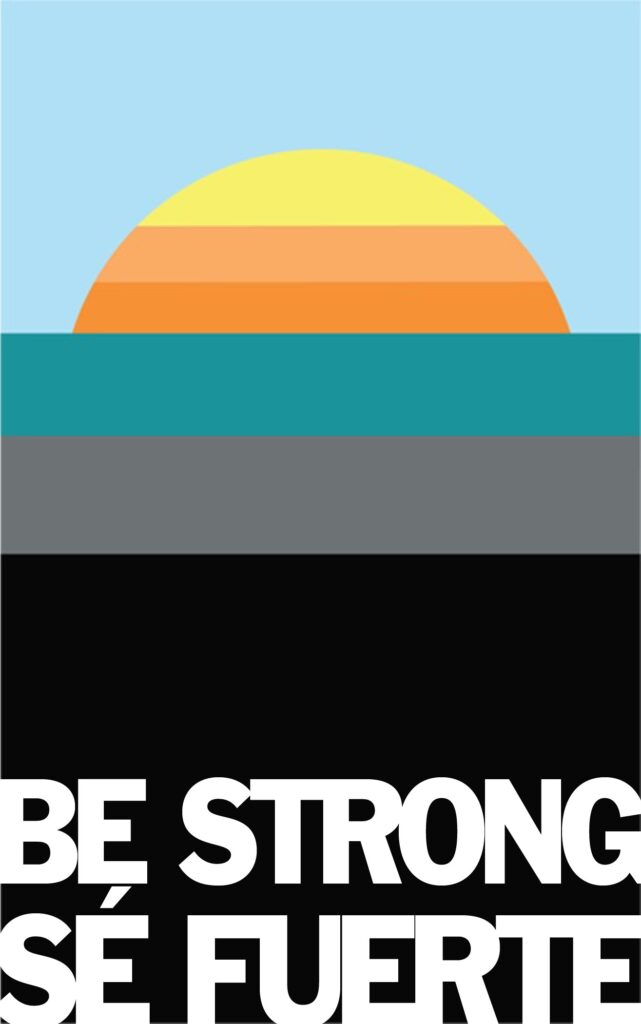 The "Be Strong/Se Fuerte" program consisted of a community-wide fundraising campaign and coloring contest to support families on the free and reduced lunch program in Encinitas Union Elementary School District (EUSD). Each week, Campana Studios founder, Jay Bell, created a coloring book sheet that was distributed to over 5000 EUSD students, along with a fundraising request to every parent on the District email list.
The coloring contest not only supported a fundraiser that had a significant community impact, but it also provided a community-building event in a time of isolation and lack of art instruction for K-12 students. The "Be Strong/Se Fuerte" program gave Campana Studios' founder, Jay Bell, a vision for a community-based, visual arts organization that would connect other artists with our communities.
Jay looked at the model of radical community organizations that utilized peer-to-peer printmaking and the engagement of visual artists in the advancement of progressive movements as the starting point for Campana Studios.  
Campana Studios obtained our 501C(3) designation in 2020 and started with free adult printmaking workshops free after-school art programming for low-income, bi-lingual students.
Our programming has grown to include additional youth and adult art-making workshops, afterschool programs and classes, as well as community-driven, public art projects.
Key to our ethos is also to work as advocates for visual artists, creating fair and just opportunities for employment and the creation of economic self-sufficiency.